Before arriving at the airport
Ensure you have the necessary identification such as voter's ID card, National Health Insurance Card, Driver's License or any form of Government identification before you travel. Ensure you have the necessary identification for international travel such as an International passport, which corresponds with the name on your ticket. You would be asked to provide it at check-in.
Ensure your bags are within the weight limits before travel (see Travel Information > Baggage Requirement) for more information.
If you are a special needs passenger, arrive at the airport in ample time for us to process your documents
Checking In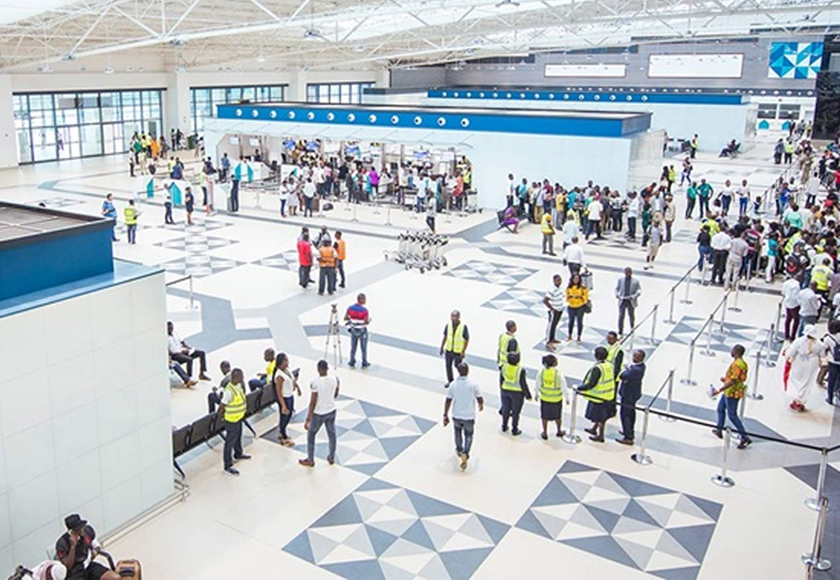 It is recommended you arrive at the airport at least 2 hours and not later than 40 minutes before a flight departs. You are required to present a valid, physical government-issued ID during check-in for domestic flights and passports or visas (where applicable) for international flights. You will not be checked-in if you fail to present such at check-in. Please note that you may not substitute such ID cards with photocopies and/or phone snapshots.
ON-Board the Flight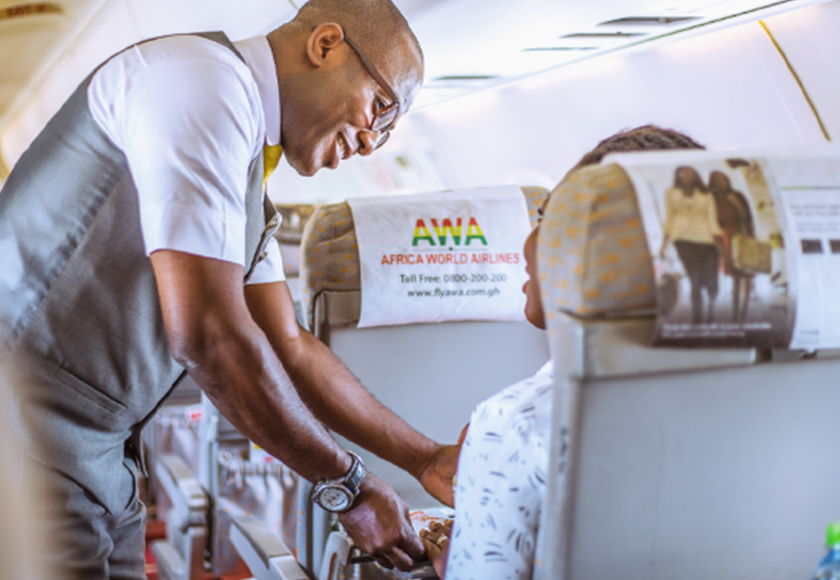 Airport Check-In
Our Embraer 145 Jets: This type of aircraft offers 50 seats. The flight crew is composed of 2 Cabin Attendants, A Captain and a First Officer
In-flight Services – Domestic
This service will initially be pioneered for domestic flights departing from Kotoka International Airport's Terminal 2, but is planned to be rolled out in other markets in due course. The menu is available to pre-order up to 24 hours prior to departure, and will feature a special selection of sandwiches, as well as a choice of selected hot drinks and juices from the Vida e Caffe menu.
In-flight Services – Regional
Complimentary hot beverages on some routes, fresh fruits juice and a snack of croissants, biscuits and meat/fish pies are served on board. Prepared meals or sale of snacks is not done on any of our flights.
Special needs
Special care and attention is important for minors traveling alone. Our policy has been designed to provide their needs and the best possible service on ground and onboard.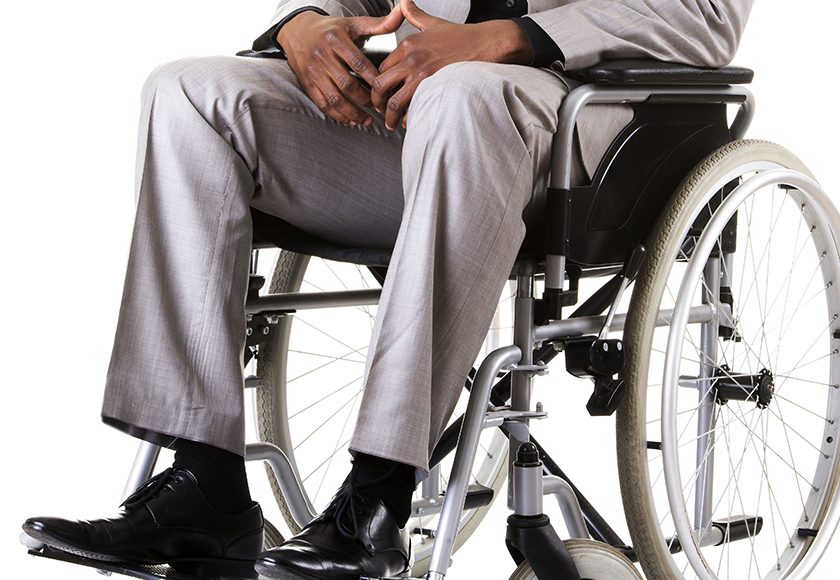 Unaccompanied minor
Special care and attention is important for minors traveling alone. Our policy has been designed to provide their needs and the best possible service on ground and onboard.
Children ages 6 to 12 MUST travel as an unaccompanied Minor (UM) on AWA. Only children who are matured enough to travel with limited
supervision are allowed to travel as an UM.
AWA ground staff will assist the UM with checking-in, transfers and boarding.
Details of the parent/guardian at the destination must be provided by the parent/guardian during reservation.
Proof of age of UM such as a valid passport, birth certificate or National Health Insurance Card should be presented at check-in.
Parents and guardians picking up an UM should be at the gate 30 minutes prior to scheduled arrival and present a valid photo ID to an AWA
representative in order to facilitate the transfer of the UM between the designated parties. AWA will not release an Unaccompanied Minor to anyone other than the designated parent or guardian. It is the parent's/guardian's responsibility to ensure changes of the designated pick-up parent/guardian are arranged with a AWA Representative at an AWA's ticket counter prior to the child's arrival.
Once onboard, a flight attendant will visually observe and/or communicate with an UM periodically as other duties allow. UM are NOT monitored continuously throughout the flight.
AWA reserves the right not to transport UM on flights that may be diverted or cancelled due to weather or other operational disruptions.
UMs are allowed to travel on ONLY non-stop or same-plane service (makes one or two stops but does not require a change of planes or flight number).
AWA does not assume responsibility for an UM's actions. Therefore the parent/guardian agrees to release Africa World Airlines for any injury or
damages caused by or occurred as a result of an UM and injuries to the UM caused by his or her own negligence.
Should the UM's travel be disrupted or should the person(s) designated fail to meet the Unaccompanied Minor upon arrival at the destination
airport, AWA is authorized to take whatever action is reasonable and necessary under the circumstances.
The parent or guardian agrees to reimburse AWA for its expenses incurred in taking such action.
If these Terms and Conditions are not met, AWA reserves the right not to provide travel to the Unaccompanied Minor.
Infant and toddlers
AWA requires all children below 2 years not to have their own seat for travel. When traveling with an infant, the infant should be placed on the lap of an adult (at least 15 years of age). However, a passenger may choose to purchase a seat for an infant as long as there is a proper child restraint device.
Only one lap child is permitted per adult. An additional seat will have to be purchased if an adult is traveling with 2 infants. It is recommended that children over 20kg in weight should use a seat for a safer and comfortable flight.
Air travel for Pregnant women
Expectant mothers are permitted to fly until the 28th week of pregnancy without a medical certificate.
From the 28th – 34th week: provide a medical certificate from her obstetrician stating that the pregnancy is progressing normally, without complications and the expected delivery date.
Flying with AWA post 34th week is NOT permitted under any circumstances.
Please note that for a pregnancy of less than 28 weeks the passenger should ideally be in possession of a medical certificate stating the duration of pregnancy at date of travel.
These passengers will not be allocated emergency exit seats.
Post-delivery, the mother is permitted to fly 48 hours after normal delivery provided she has a certificate from her obstetrician stating she is fit to fly.
A fit to fly certificate is needed from the 28th week to the end of 34th week.
Babies must be 14-days old and above to be accepted to fly
Customers with Disabilities
AWA will ensure that customers with disabilities enjoy their flight with us. We provide assistance to customers with special needs during the
reservations process, checking-in, in-flight and upon reaching their destination. Information can be found by calling our representatives at our ticket offices or at the airport.
We will ensure provision of the following:
Transport of customers with disabilities of any kind unless there is a specific safety-related regulation that requires us not to do so.
Transport of wheelchairs and other assistance devices for personal use at no charge. We also offer enplaning and deplaning. Attention should be brought to our representatives of the persons' condition upon ticket purchase.
Pre-boarding to find a suitable seat. Customers with disabilities are NOT allowed to sit at the emergency exit rows.
Receipt of checked wheelchair or other assistance device upon disembarking or at baggage claim.
AWA is not insured, permitted or equipped to hand carry any passenger that is unable to assist themselves on board an AWA aircraft, even if they are able to walk but need a trained and accredited bearer. THIS IS CODED WCHC OR WCHS passenger.
AWA is not equipped to transport medical oxygen or other hazardous materials and/or contained gas either in the passenger cabin or as cargo or baggage.
AWA is not equipped to transport customers who require stretchers, incubators, respirators, or other devices that may rely on aircraft power supply.